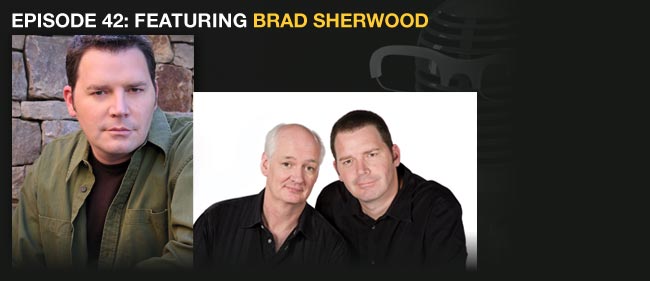 This episode of Conversations with Ross features actor and improv comedian, Brad Sherwood.  Brad offered some behind-the-scenes stories on Whose Line Is It Anyway, and Drew Carey's Improv-A-Ganza.  He also spoke about trying to do scripted work after being known as an improviser, breaking in, and his worst experience in front of a live audience.  Brad chimed in on the long from vs short form improv debate, and also spoke about his past work on the sketch comedy show The Newz.
I hope you listen to and enjoy our conversation.  This interview is also available to download for free on iTunes.
Click Here to subscribe on iTunes
Below are some highlights from the interview:
Ross Carey- Were there any games from Whose Line that you hated doing?
Brad Sherwood- I think the one that universally no one particularly cared for was hoedown.  We would always do that at the end of the show.  We were all improvising and running around like crazy monkeys for two and a half hours, then they want us to do this hoedown, which is such a campy musical style in the first place.  That was the one that felt like a tooth puller…
…
Ross Carey- Inside the improv community there is always a debate between long form and short form improv.  Do you get any grief from the hardcore long from improvisers about not doing true improv?
Brad Sherwood- Not to my face.  I know there are a lot of long form purists that feel like as an improviser you start off doing the short form gamey type of stuff and then you graduate to long form and that's supposed to be a classier version of it. I understand that, I think it works a different part of your brain but I also think there is a real difficult skill set to doing short form because you have to come up with jokes non-stop and keep it funny and that's something that not a lot of long-formers are capable of doing.  It's two different animals, it's like long distance runners yelling at sprinters.  It's two different mindsets and I think there is value to both.
…
Brad Sherwood is an actor and comedian currently starring on Drew Carey's Improv-A-Ganza on GSN.
You can follow Ross and Brad on Twitter @Rosscarey and @TheBradSherwood
To listen to the entire interview click the player above or download episode 42 of the Conversations with Ross podcast on iTunes.
Popularity: 23% [?]