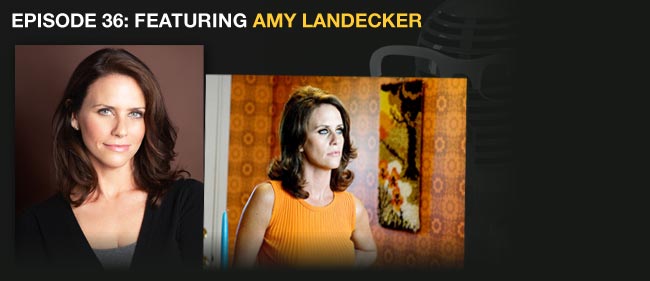 This episode of Conversations with Ross features one of the stars of the Paul Reiser show and A Serious Man, Amy Landecker.  Amy spoke candidly about the abrupt cancellation of the Paul Reiser show. She talked about competing with American Idol and how she found out the show was canceled. She also discussed working with the Coen brothers in A Serious Man and how she  and they handled her nude scenes.  We also discussed the differences between acting in New York and Los Angeles, how live theater compares to film work, and she detailed a can't miss failed audition story with Kristen Wiig for Bridesmaids.  This is a honest look at some of the highs and lows that come with being a working actress.
I hope you listen to and enjoy our conversation.  This interview is also available to download for free on iTunes.
Click Here to subscribe on iTunes
Below are some highlights from the interview:
Ross Carey- Do you feel like NBC ever gave the Paul Reiser show a shot?
Amy Landecker- No I don't.  I don't really understand how this all works because I'm really new to it.  I feel like, if there is an issue with the show, why do you go ahead and order more episodes? If you're gonna go ahead and order it and give it an air date, clearly someone over there believed in it.  It is all about the numbers, I understand that, this is a business.  But, if you take a show and only give it three or four weeks to let people know it exists and put it up against the second half hour of American Idol , it would take a miracle under those circumstances to have a hit… The truth for me, as soon as I found out we were against American Idol, I knew we were done.  I was just like, there is no way.  I think people thought we don't have to do that well, they don't expect us to beat Idol obviously, but it's like on the other hand, if you're up against American Idol and only have four or five weeks to even get the word out, I mean I think it might have been one of the shortest ramp-ups in the history of television.  I still have people telling me all the time that they didn't even know the show was on, the show was cancelled and people didn't even know it was on. [Laughs] It's frustrating, but the truth of the matter is, we just have to accept the fact that not enough people watched and this is a business. That's what it is.  it's a rough business; it's a blood sport as my husband likes to say.
…
Ross Carey- Tell me about your worst audition experience.
Amy Landecker- [Laughs] You know what? It was for Bridesmaids. [Laughs] And it's so hard because I keep seeing the billboards and I just tanked it.  I never would have gotten it anyway, it was for Maya Rudolph's part, and obviously I can't compete with her.  It was with Kristen Wiig and I was like oh my god this is a dream come true, I'm going to audition and be able to improv with Kristen Wiig. There is an alchemy when you go into those rooms. Sometimes you walk in and they just fall in love with you and you feel it and you fly and everything is great.  Like the Coen brothers, I just walked in that room with them and the first word out of my mouth they were laughing and I knew I had them.   This was the opposite; this was like turds were dropping on the floor for the entire audition.  I couldn't get a single laugh.  I was pushing, I was trying too hard.  And then I was so upset they wouldn't work with me or give me notes or that I didn't get to do it again that I kind of stomped off like a three year old toddler.  I couldn't have behaved worse.  I see those billboards and I'm like, Jesus! It's funny, but you have to move on…
…
Ross Carey- [On her role in A Serious Man] We've all had awkward days at work, whether it's a first day or what have you.  But what was it like driving to work knowing you would have to be naked and on camera all day?
Amy Landecker- Well, it was my first day of shooting when they [Joel and Ethan Coen] did the nudity, which I think was kind of cruel. [Laughs] I'm going to be honest the first day I get to Minnesota, they take me to set, I'm going to the nudity, they do my body makeup, I'm totally not in a good place, I have to be honest I was freaking out. Freaking out!  Then the clouds came in and they couldn't do the shot that day, it was one of the best things that could have happened to me.  We changed the order of the scenes so I did something else first and I had a day to calm down about it, get to know everybody and get a bit more situated.  Here's the thing, I've done nudity on stage too, and the same thing happened to me on camera, you really forget about it once you get through the initial thing.  Once you take your clothes off, then you become very free.  It's very weird, you're just hanging out and you don't even care…
…
Amy Landecker is an actress currently living in Los Angeles.
You can follow Ross on Twitter @Rosscarey
To listen to the entire interview click the player above or download episode 36 of the Conversations with Ross podcast on iTunes.
Popularity: 10% [?]