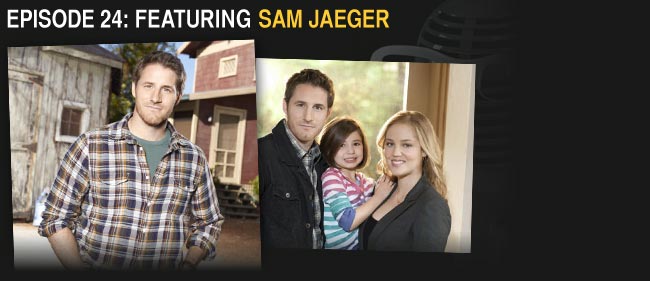 This episode of Conversations with Ross features one of the stars of Parenthood, Sam Jaeger. Sam discussed his role on Parenthood, how his character has evolved since season one, and what it's like working with his TV wife Erika Christensen.  He also spoke about how directors can get the most and least out of him, some reality check moments he has had as an actor, and detailed a can't-miss story about his worst audition experience.  We also spoke about his role on Eli Stone, and whether life as an actor is what he expected it to be.
I hope you listen to and enjoy our conversation.  This interview is also available to download for free on iTunes.
Click Here to subscribe on iTunes
Below are some highlights from the interview:
Ross Carey- Did you feel like your character [Joel] was just in the background on the first season of Parenthood?
Sam Jaeger- [Laughs] You know in the first season of any show, I'm just thankful to have a job.  The less they notice me the better.  That means they're signing my paychecks and don't even know I'm on the show.  So, thankfully there are 39 series regulars.  Going into the second season, I think what I was most excited for was to see an equal sharing, basically, sharing with America the experience of having a six year old and the complications of trying to have another kid because those are some things that Julia [Erika Christensen] and Joel really get to play out… I really feel like there is a real value to having our storyline this season, it's much more clearly defined this year and I'm thankful to be able to share that.
…
Ross Carey- Sam, let's talk about your previous role on Eli Stone.  That's a show that had a loyal following but never really caught on with the masses.  Why do you think that is?
Sam Jaeger- I have a lot of theories on that. [Laughs] When a show doesn't go you spend a lot time thinking about why, or why not. My feeling is I think it was a little bit ahead of its time.  For example, it was a show that was musical in nature and it wasn't until Glee that this musical element really found its niche… In fact we had the same choreographer that is now on Glee back on Eli Stone.  I felt like it was a pretty magical show and that's why there was such an allegiance for it.  I don't know if America was ready to wrap their heads around it. It wasn't an easy sell.  It was about a guy that started to have visions and believes he might be some sort of prophet to god. In itself that may alienate a large group of Midwesterners or people with certain religious views.  Anyway, that's my opinion. It certainly was a heck of a lot of fun to do and that was another show it was just great to go in and collaborate with such brilliant actors.
…
Ross Carey- What was the first time you first felt you made it as an actor?
Sam Jaeger- I'll tell you about the time I didn't make it as an actor, how about that?  Early on in my career, actually the first job I ever got cast in when I moved out to L.A. from New York.  Within a month I got cast as a politician in the movie Traffic.  And, if you see that movie, you'll notice that I'm not in it. I went out to Washington, I shot it, and I was invited to the premiere.  I sat down in my seat with my girlfriend who is now my wife and I thought that whole day, hey, this is going to be my coming out party.  This is really going to do it for me, bigger and better things from this point on. The scene I was in was in a townhouse in Georgetown and they actually had invited actual politicians to come in and improvise dialogue on the same night that we were doing our scenes and low and behold they chose the actual politicians, as rightly they should.  So, I was basically replaced by Barbara Boxer talking real politics… That night after the premiere I just walked around town and realized that I had quite a long way to go.
…
Sam Jaeger is an actor currently starring as Joel Graham on NBC's Parenthood.
To listen to the entire interview click the player above or download episode 24 of the Conversations with Ross podcast on iTunes.
Popularity: 15% [?]