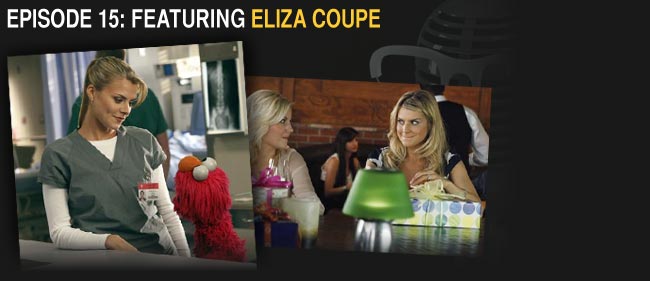 This episode of Conversations with Ross features one of the stars of Scrubs and Happy Endings, Eliza Coupe.  Eliza discussed women in comedy and the lack of great roles available to them.   She also spoke about being dyslexic and how that has affected her as an actress.  Eliza talked about her failed audition for Judd Apatow, pilot season, and being named breakout star at the 2006 HBO Aspen Comedy Festival.  Eliza spoke about working with people like Lily Tomlin, Bill Lawrence, Zack Braff, Elisha Cuthbert, Damon Wayans Jr., and Sarah Chalke.  This is an honest look at life as a comedian and actress in an industry where funny women are not always accepted.
I hope you listen to and enjoy our conversation.
Click Here to subscribe on iTunes
Below are some highlights from the interview:
Ross Carey- Eliza, Were you a trouble maker as a kid?
Eliza Coupe- Yeah, to say the least, I was.  I'm dyslexic and have ADHD to the point I'm surprised my parents didn't strap me down just to have dinner. I was all over the place.  I just did not take well to authority and so I got into a lot of trouble.  The one thing where I would pay attention and have no problems was when I was doing theatre at my high school.  It was a great theatre program, so that was the one thing that grounded me and kept me focused.  I also played ice hockey, so I got some aggression out there.
…
Ross Carey- What did the producers of Happy Endings initially tell you about your character, Jane?
Eliza Coupe- Well, originally I auditioned for the role of Alex, Elisha Cuthbert's character.  I went in for a meeting during pilot season, I went in for that character but the producers thought I should take a look at the part of Jane. Initially I said no because I thought that the character was too uptight and kind of waspy.  Remind you, I'm from New England and my mother is this character but that's besides the point.
Ross Carey- Have you told your mom you're playing her on TV?
Eliza Coupe- Oh my god, my mom knows, I've told her. My character Jane is my mother, my grandmother and my aunt. It's a mix of all them.  It's really funny, because my brothers are going to be like, oh my god, you just did mom on TV.  So when I first went in and talked to the producers about it, the character wasn't as flushed out as it has become.  Jane is a now a perfectionist, everything is perfect, crisp and clean.  She just really likes to please people, she is a very big people pleaser.  Everything is fine on the surface but I think she could snap at any moment, and I think there is a dark hidden past that she was crazy in college or maybe has a drinking problem or something, but she covers it up quite well.  That was definitely apparent in the pilot but not as flushed out as it has become now, but I definitely feel Jane has become a complete person.
…
Ross Carey- You were a part of the Scrubs series finale that then wasn't the finale.  How did that all go down?
Eliza Coupe- I don't know because I watched that last episode and like, look, I'll cry if a commercial is really good so I cried through that thing. Again, therapy is a must for me.  It was a great finale, and then I don't think anyone expected the show to come back, I mean at all.  It was, very unexpected.  I got the call that it was coming back and I was like, wait are you serious? What's it going to be?  Med School?  All right, I love the character of Denise, I'll do it but I don't really know how that all went down. … It was for sure a very bizarre situation.  I was a big Saved by the Bell fan, it felt like Saved by the Bell the College Years.  It was just like, oh, it's not done?  Try this new way of doing it.  It was very bizarre but they created some great new characters. You know, Dave Franco was on there, he was awesome.  Mike Mosley and Kerry Bishé were great.  There were some really great characters but I'm not sure people were willing to give it a chance because it wasn't a complete spinoff, maybe it needed to be a completely different show and not in a med school . It needed to be completely different in order for it to take off but it was still under the guise of being scrubs 2.0 or 1.2, I don't know.
…
Eliza Coupe is an actress and comedian currently starring as Jane on ABC's Happy Endings.
You can follow Ross and Eliza on Twitter @Rosscarey and @Eliza_Coupe
To listen to the entire interview click the player above or download episode 15 of the Conversations with Ross podcast on iTunes.
Popularity: 57% [?]